With the retail e-commerce sales accounting for 3.5 trillion USD worldwide in 2019, ecommerce marketing has been the focus of many big and small retailers.
India witnessed an internet boom with the launch of Jio in 2016. With the availability of affordable smartphones and internet penetration, India has already crossed a number of 500 million smartphone users and is growing into a mobile-first economy. This gives an opportunity for e-commerce marketers to reach and engage with the mass audience.
Below are some e-commerce marketing strategies that will help you gain higher visibility and conversions.
1. Ecommerce Marketing through content
As per a recent study by HubSpot, 70% of marketers are building their content marketing strategies for higher conversions. Some of the ways you can capitalize on content are:
Brand Storytelling: Convey the story of your brand, why you exist, and how you are going to help your customers. When you connect with your audience on an emotional level, they put their faith in your brand and become your advocates.

Blogs: Identify the problems your customers face and provide solutions through a series of blog posts. You can write about your products, industry insights, and other engaging topics that resonate with your audience.

SEO: One of the most benefits of content marketing is through search engine optimization. Identify target keywords and create compelling content around it. When customers engage with your content, the website traffic increases, and search engines rank your website higher for providing relevant content.

Emails: Emails still prove to be the most efficient way of communication for B2C marketers and provide a higher ROI. Welcome emails, event emails, and promotional emails are some of the high performing email types. Other important events where email marketing can be used are:


Post-purchase follow-up: When a user has purchased a product from your website and agreed to receive promotional emails, follow-up with them by requesting a review, watching a product-related video, using a promo code, or buying related products. This will keep them engaged and keep coming back to your website.

Abandoned shopping cart: If a user has not completed the transaction, send them a reminder email to complete the checkout process, and recommend purchasing related products.
Here are some more examples: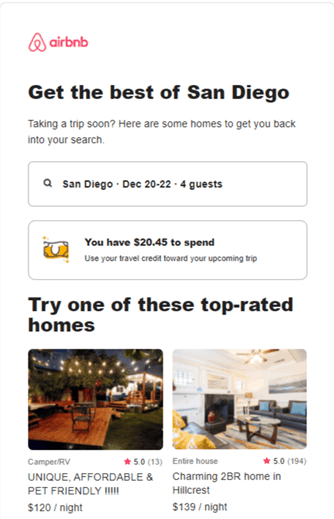 Social Media Posts: Social media platforms are regularly rolling out updates that let you engage with your audience and provide an immersive experience.

Images, stories, live feeds, videos, gifs, infographics, comments, and shares are some of the ways you can use to introduce new products, get customer feedback, and encourage online purchases.
The online store and product tagging by Facebook and Instagram are good options, to begin with.
The pinning feature of Pinterest is another way of engaging customers visually.
Although Facebook is the most used social media platform, you need to test and identify which channel works for you and your audience. Then come up with innovative and interesting ideas to connect, communicate, and engage with your audience.
Videos: Video is the most commonly used content marketing format by marketers as it increases the traffic coming to the website and boosts online sales. You can use videos for:
Product overview
How-to tutorial
Customer stories and testimonials
Product comparison
Animation
Promotional ads
Collaboration with influencers
Live Events or Webinars: Considering the unprecedented times we're in, online events like conferences, webinars are a way to connect with a mass audience while still maintaining social distancing. You can invite people from all over the globe to share their knowledge and experiences and also grow their network.
2. Search Engine Marketing
Pay-per-click advertising enables marketers to design product-specific campaigns that drive traffic to the website through a set of targeted keywords. This is an efficient way of utilising your marketing budget as you pay the search engine only when a user clicks on the ad.

Source: Google
3. Create a personalized experience
As per a recent study by Accenture, companies lost $756 billion due to poor personalization and lack of customer trust. This has led marketers to adapt personalization tactics and provide a rich and customized experience to their customers.
Personalization is carried out by displaying content and product recommendations based on a user's browsing history, past purchases, demographics, and other data. Marketing in the new world needs to be omni-channeled. A customer selects a product online but picks it up offline. Gradually, the line between offline retail and online e-commerce is dissolving. Providing a retail-like experience online will guide customers through their purchase journey and will drive conversions to the website.
Source: https://optinmonster.com/ecommerce-personalization-examples/
Source: Amazon
4. Focus on faster delivery
Customers appreciate a faster delivery and this ETA influences their buying behaviour. Companies are now focusing on the same-day and one-day delivery options to increase the number of conversions and retain their customers. This may look like tough logistics initially but if you can optimise the time of product delivery, you will end up impressing and delighting your customers.
5. Use of voice and AI-powered technologies
Google has recorded a 270% year-on-year increase in voice queries in India. Taking this into account, companies are investing in voice-enabled search and improving the customer buying experience. Customers can now place an order on Amazon using Alexa. As an e-commerce marketer, you need to identify the opportunities where you can make use of the latest technological developments and improve the user experience.
For example, if you sell furniture online, you can use AI to visually place the piece of furniture in the user's room and give a preview of your product. If you sell cosmetics, let your customers enjoy the look of a lipstick shade before buying it. When users can visualise how a product will look when they have it, they are triggered to buy it.
6. Enhance the mobile shopping experience with PWA

Source: Starbucks
Progressive Web Apps are changing the way brands are engaging with their customers. E-commerce brands like Flipkart tripled their session time and increased the conversion rate by 70% among users coming from the "Add to Homescreen" option.
Several other brands like Starbucks, Alibaba, Pinterest, Forbes, and Housing.com have witnessed outstanding results by just pivoting to PWAs.
7. Make use of user-generated content
Social proof is another important factor that affects the user's purchase decision. When customers read (or watch) online reviews, they decide if they want to buy a particular product or not. Encourage your existing customers to write about their experience with your products and use these reviews as social proof to influence potential customers.
Add these product ratings and reviews to the product page to help customers find the information they need before making a purchase. Allow the users to directly share your products using hashtags on social media. E-commerce platforms like Shopify, Magento, WordPress provide the integration of social media links that help marketers improve the user experience.
Source: Flipkart
8. Collaborative ecommerce marketing
The use of Influencer Marketing and Affiliate Marketing has increased over time. Brands are collaborating with established as well as micro-influencer to co-create content and influence the community of buyers to purchase their products. This type of collaborative marketing helps brands expand their audience reach and increase their customer base.
Platforms like Instagram, TikTok, Snapchat, YouTube are very popular for such campaigns.
9. Build a loyalty program
Ecommerce brands have been investing in and building loyalty programs to retain their customers. Amazon Prime, Flipkart Plus, and Myntra Insider are all examples of successful loyalty programs that have proved to be successful for these brands.
With the aim of using an incentive, customers return to engage with your brand and make more purchases. These incentives could be granted on every successful purchase, referral, or social media mention and can be in the form of cashback, discounts, coins, and offers, etc.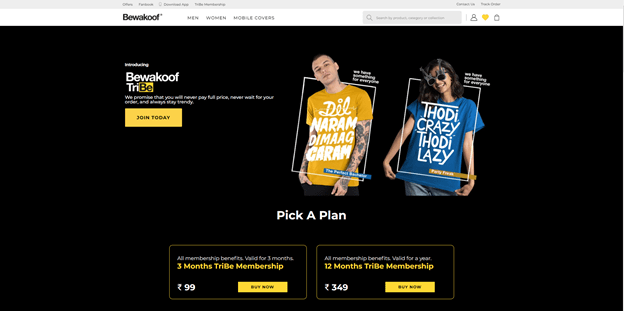 These are some of the e-commerce marketing strategies that will improve your conversion rate and make your business profitable.
Ebizindia runs a web maintenance service with a continuous improvement program. We work on increasing your visitor count and conversion rate at a steady pace, month after month with small and big changes to your website and e-commerce store.
We specialize in creating and maintaining online stores built with WordPress, Shopify, Magento, and other CMS. Contact us with your specific needs and we shall work together to achieve your business goals.